image top: Margit Jäschke. Necklace, silver gold plated, epoxy, 2019
---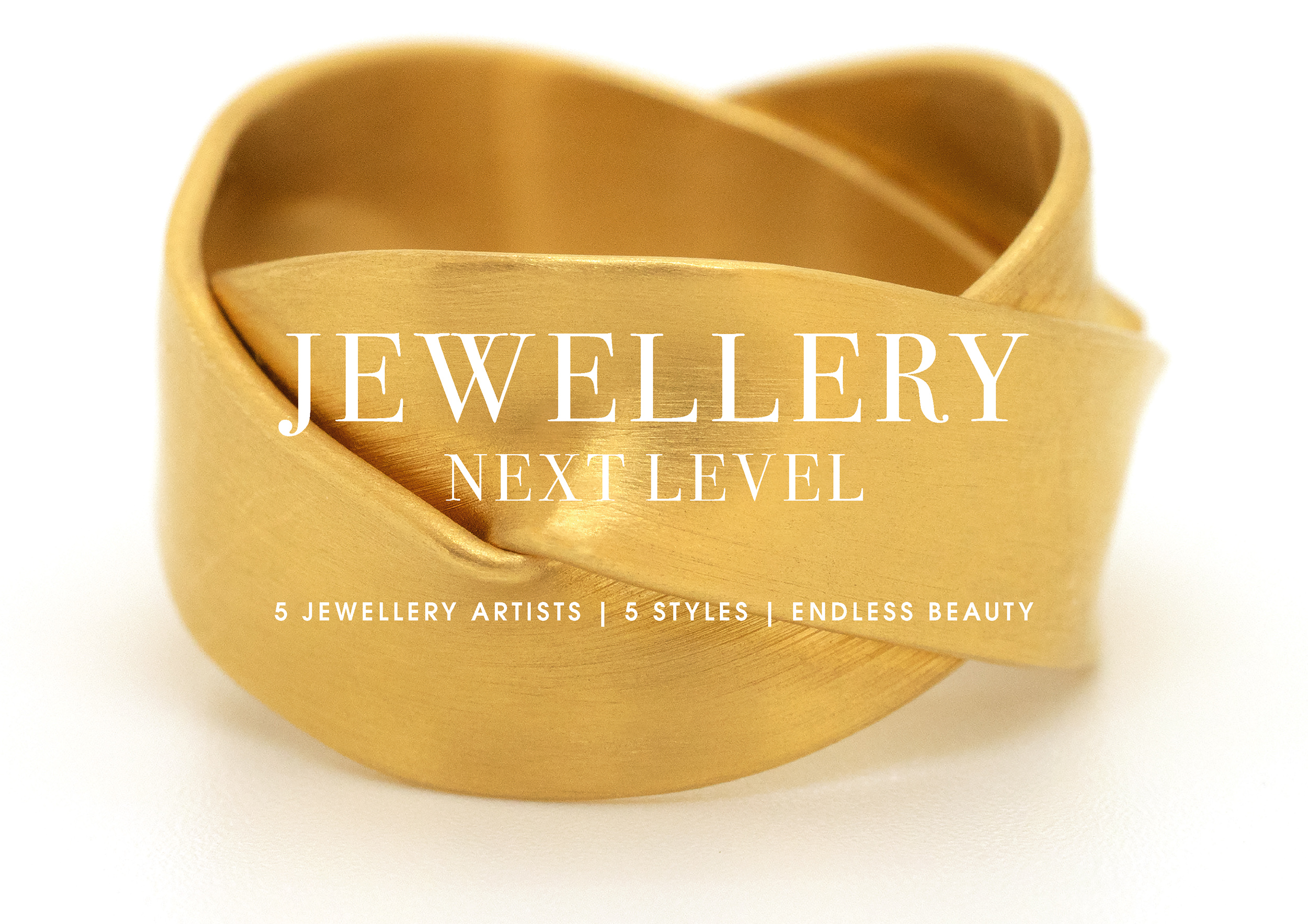 EXHIBITION OPENING
Saturday, June 12, 2021 / 12:00 to 20:00
Exhibition duration: June 12 to July 10, 2021
Celebrate with us on June 12, five jewellery artists setting new highlights with their extraordinary works.
We are looking forward to seeing you again!
ISABELLA HUND
---
Previous Events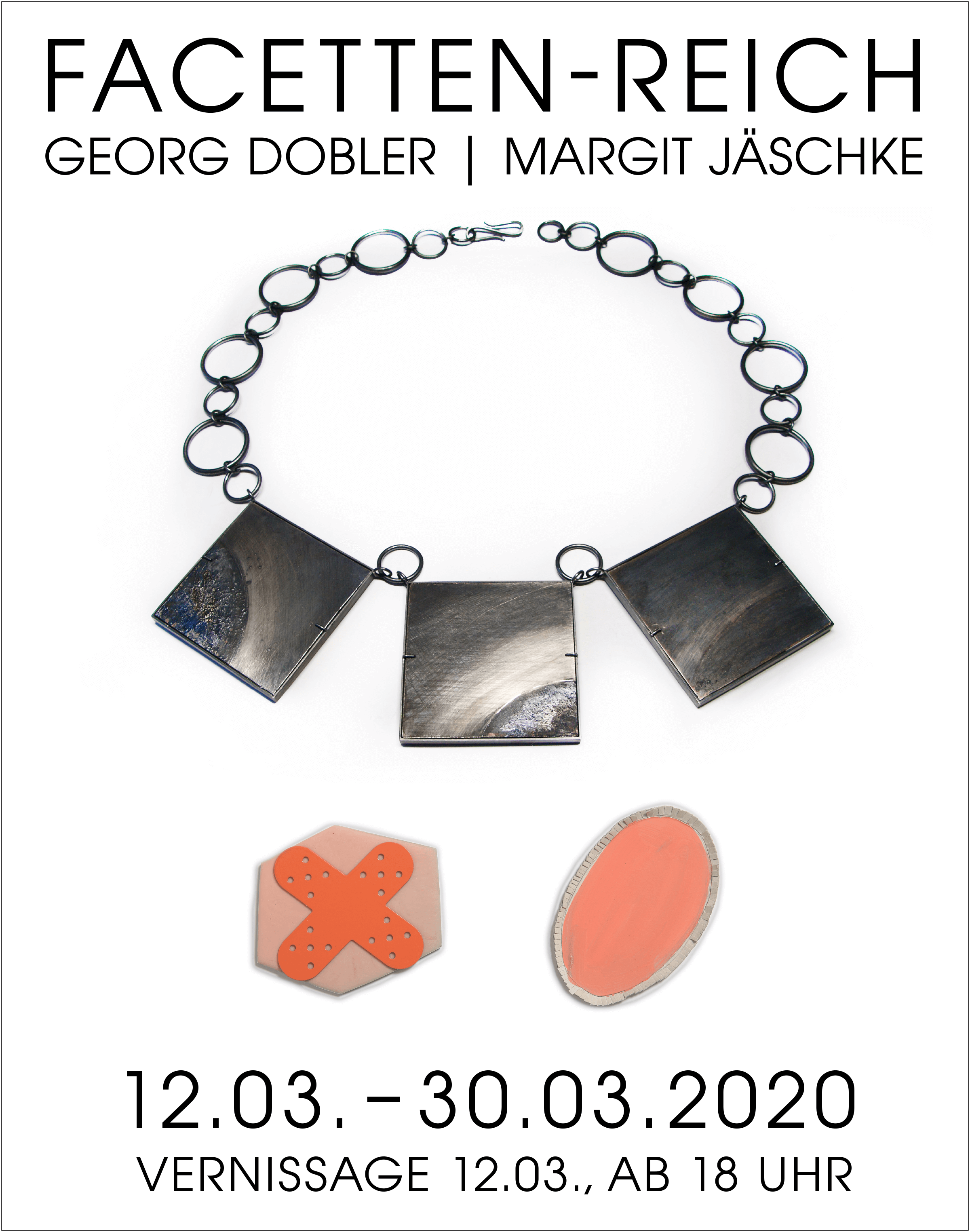 The work of artist couple Georg Dobler and Margit Jäschke displays a fascinatingly wide range of jewelry: from monochrom reduced through deconstructivism to conceptual with informal influences. Their high artistic demand has lead them into numerous collections of museums around the world but above all their creations are: wearable. We are more than happy to present them to you.
Georg Dobler. Pendant with silver chain and silver balls, 2010, oval brownish quartz, all mounted and patinated, 80 x 70 x 30 mm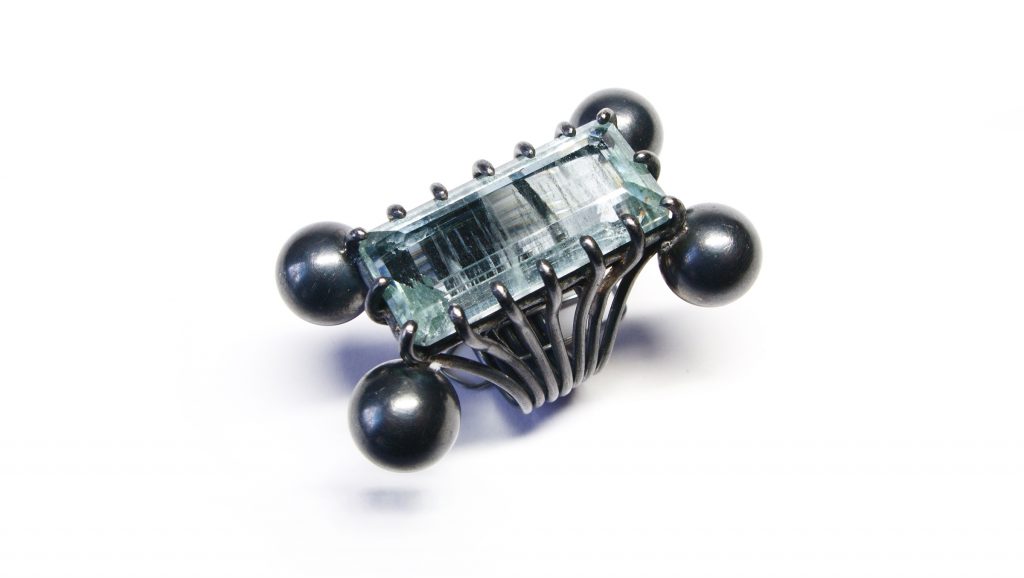 Georg Dobler. Ring with aquamarine and silver balls, 2019, all mounted. Size of stone: 30 x 12 mm
GEORG DOBLER
Born 1952, Bayreuth, (Germany). Goldsmith Master, Berlin 1980.
Professor at HAWK Hildesheim (eremitiert 2019).
Live and work in Berlin and Halle/Saale, Germany.
Public Collections
Herbert Hofmann Preis, IHM SCHMUCK, Munich, 1991 and 2000
Grassi Prize, 2004, Grassi Museum, Leipzig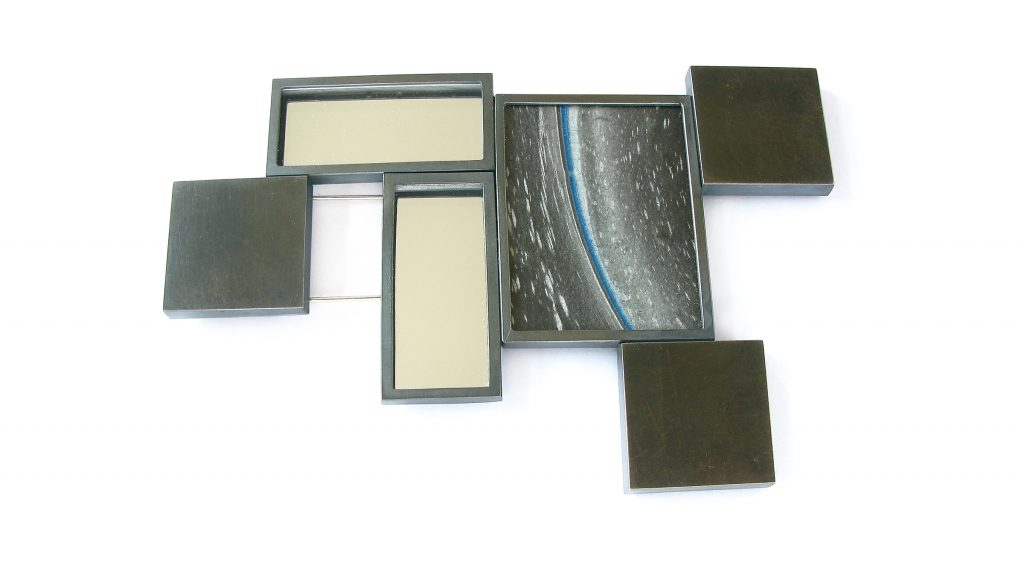 Georg Dobler. Brooch, Horizon, silver frame and surface, mounted , surface casted and patinated
MARGIT JÄSCHKE
1962 geboren in Halle/Saale.
1983–1991 Studium Burg Giebichenstein, Hochschule für Kunst und Design, Halle, Plastik/Schmuck.
1994–2001 Künstlerische Assistenz Burg Giebichenstein/Halle.
Zahlreiche Preise/ Stipendien, u.a. 2016 Kunstpreis der Bayrischen Akademie der Schönen Künste; 2002/2007 GRASSI Preis des GRASSI Museum Leipzig; Stipendien (Auswahl): 1994 Stiftung Kulturfond Berlin;
2010 Internationales Arbeitsstipendium ISP New York; 2012/2014
Arbeitsstipendium Künstlerhaus Lukas, Ahreshoop.
Arbeiten in zahlreichen Sammlungen und Museen u.a. CODA
Museum, NL; The Metropolithan Museum of Art, New York, USA;
GRASSI Museum für angewandte Kunst Leipzig; Newark Museum of
Art, NY, USA; Kunstmuseum Moritzburg, Halle; Goldschmiedehaus Hanau.
Lebt und arbeitet als Schmuck-/Objektkünstlerin in Halle/Berlin.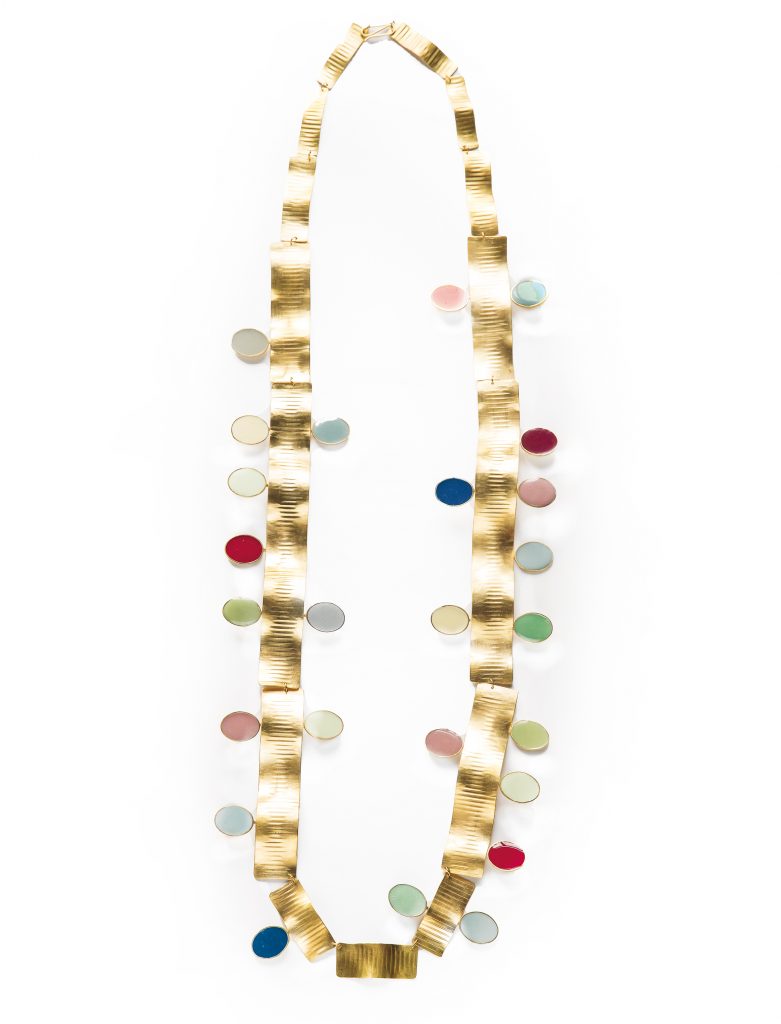 Margit Jäschke. Necklace, gold, silver gold plated, epoxy, 2019
Exhibition FACETTEN-REICH
GEORG DOBLER & MARGIT JÄSCHKE
12th to 30th March 2020
Vernissage March 12th from 6 pm
Opening hours
Tuesday to Friday 11 am – 2 pm and 3 pm – 7 pm
Saturday 11 am – 4/6 pm
Dates by appointment
photos: Mattias Ritzmann (Margit Jäschke) and Georg Dobler
---
Christmas exhibition
10.12.19 to 17.01.20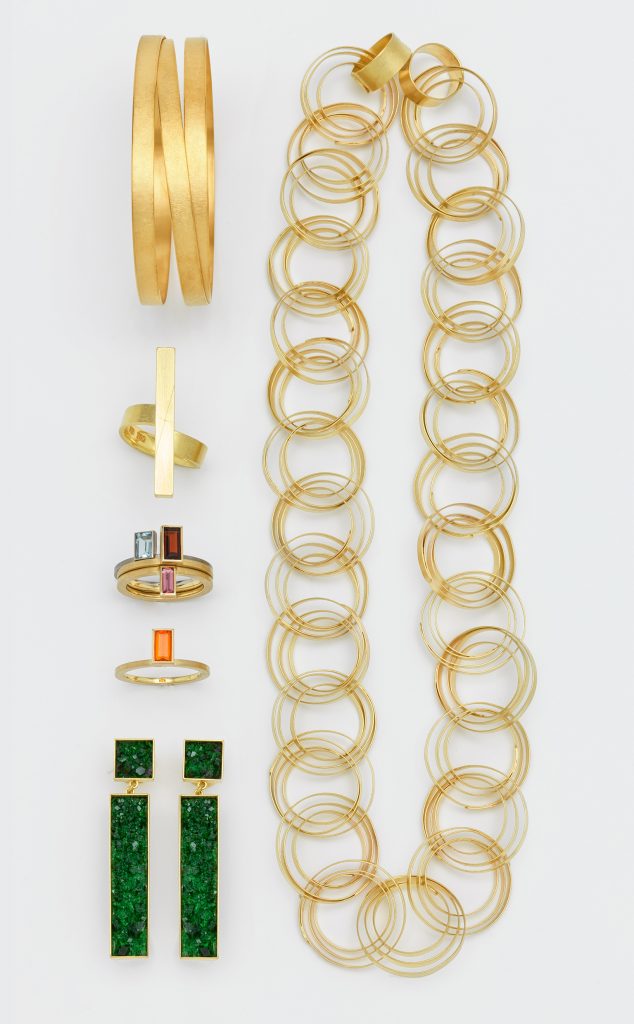 Bracelets – Ulla & Martin Kaufmann
Ring – Michael Becker
Rings – Isabella Hund
Earrings – Michael Becker
Necklace – Kazuko Nishibayashi
Ring – Zwetelina Alexieva
Earrings – Kazuko Nishibayashi
Rings – Stiffler & Krauss
Ring – Christine Graf
Hair clipper – Christiane Iken
Brooch – Kathrin Sättele
Earrings – Doris Betz
Ring – Angela Hübel
Brooch – Christiane Iken
Earrings – Sabine Hauss
Bracelet – Monika Jakubec
Pendant – Tom Munsteiner
Ring – Katja Schlegel
Ring – Leen Heyne
Earrings – Rike Bartels
Earrings – Sophia Epp
Pendant – Christoph Straube
Ring – Achim Gersmann
Earrings – Evelyn Vanderloock
Necklace – Christiane Gilg
Ring – Susanne Elstner
Ring – Sabine Klarner
Ring – Rudi Sand
Earrings – Alexandra Brachtendorf
Earrings – Alexandra Bahlmann
Ring – Doris Betz
Ring – Gigi Mariani
Ring – Danuta Uhlig
Necklace – Dittelmann & Jank
Necklace – Arnd-Kai Klosowski
Ring – Yoko Takirai
Ring – Michael Becker
Ring – Barbara Schulte-Hengesbach
Bracelet – Quite Quiet
Earrings – Valentine Dubois
Rings – Dittelmann & Jank
Rings – Michaela Gottstein
Necklace – Michaela Gottstein
photos © Eva Jünger
Download Invitations (PDF)
---
Alexandra Brachtendorf & Alejandra Solar
Oct. 25 – Nov. 11, 2019
---
Rike Bartels & Jacqueline Ryan
March, 15 – 30, 2019