Personally.
Jewellery has to reflect the personality of the artist; its powerful and unique radiance must be compelling and underline the charisma of the wearer. As a jewellery designer and gallery owner, I am always on the look-out for jewellery artists who meet this standard and whose work is innovative and contains this range of tension while having the courage to explore new territory.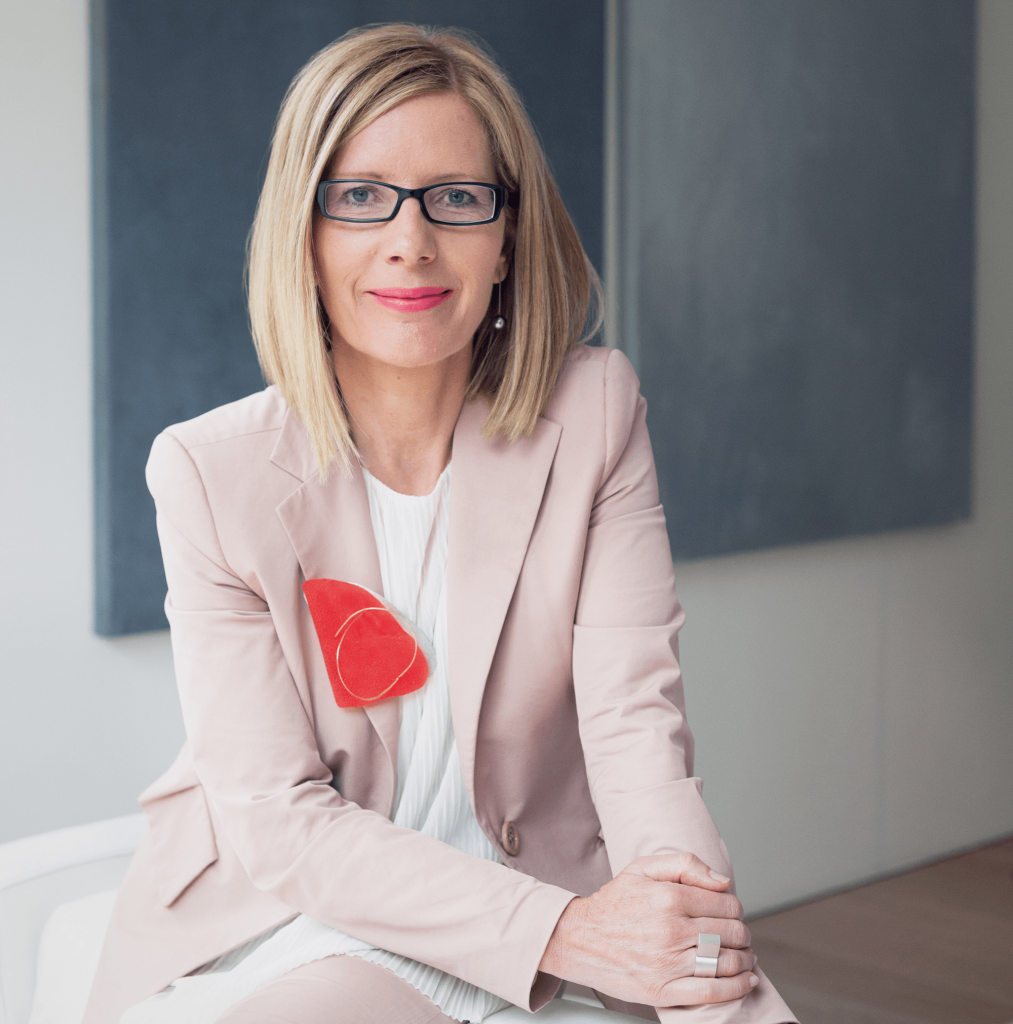 Isabella Hund (photo © Ulrike Myrzik)
Biography
1955 born in Karlsruhe
1976-82 Studies at the Fachhochschule für Gestaltung (design academy), Pforzheim
1982 Rotary Ambassadorial Scholarship, 3-month working stay in London
1983-84 Fulbright Scholarship, USA Postgraduate Studies at San Diego State University, California
1984-85 Teaching assignment for art and design at San Diego State University, California
1988-96 Gallery and workshop in Munich, Neuhausen
since 1997 Isabella Hund, Gallery for Contemporary Jewellery, Frauenplatz 13, entrance Schäfflerstraße, 80331 Munich
Exhibitions
1983 Stuttgart, Kunstakademie, Hamburg, "Koppel 66"
1984 San Diego, USA, South Western College Gallery, San Francisco, USA, Crafts Museum, San Diego, USA, Imperial Bank Tower
1985 Emporia, USA, State University, Pforzheim, Schmuckmuseum
1988 Schwäbisch Gmünd, Galerie Parterre,
1989 Hamburg, Galerie Hilde Leiss, Nijmegen, Holland, Galerie Marzée, Düsseldorf, Galerie AND
1990 Frankfurt, Museum für Kunsthandwerk, München, Stadtmuseum
1991 Cologne, Stadtmuseum
1992 Munich, Bayerische Versicherungskammer
1993 Munich, Stadtmuseum
1994 GalerieTiller, Vienna
1995 Aalborg, Denmark, Nordjylland, Kunstmuseum
1999 Hamburg, Galerie Hilde Leiss
Birgit Jacobs in conversation
with Isabella HunD
When you left London you went to the USA, to San Diego. The dominating feeling at the time was: freedom and experimenting, new wave and punk. Did these years form you?
I am incredibly grateful for these years. I was in my mid- twenties, felt free and was open for everything. In America, I was primarily amazed by the Californian light and I painted a lot. That was also the time of performances. I once made "shaving cream jewellery" – jewellery that only lasts for an hour. Bracelets, chokers, rings, everything was sprayed with shaving cream. When the people left after the vernissage they actually smelt really good too! The openness, the experimenting, all of that was very good for me. It liberated me from my middle-class education, it broadened my horizon. At the time, I didn't think about earning money or a career – but lived life, learnt a lot and just soaked up the artistic spirit.
In many portrayals of you, "persistence" is said to be your main characteristic. Your clear line is praised. Was this trait formed during this creative, wild, Anglo-Saxon time?
I always had this persistence. Bauhaus fascinated me: the austerity, the clarity. When you are making jewellery you have to concentrate. So I always liked filing right angles, for example. London, America – that was the liberation from right angles.
You are an art dealer as well as a designer. You sponsor unknown artists and at the same time you are also a successful business woman. What attracts you to these varied activities?
A great deal. Multidimensionality is wonderful. I think it is great that after being a gold smith for 20 years I am now not only sitting at the drawing board myself but can actually implement my own ideas. I find it fulfilling to discover great new artists as the owner of a gallery and to exhibit their work. I need this variety. It is what I have created for myself over the years.
25 years of Isabella Hund – many jewellery shops don't even manage to survive half the time. What makes you different?
That is a difficult question. I never measured myself against others. And my career was not always a steep upward curve. At the beginning there were phases when business was very slow and I didn't know how I would pay my rent. But when I didn't have any customers I could always go to my workshop and produce something. And so even the difficult days went by and I was able to develop myself at the same time. That is what kept me going. I set myself tasks and decided to make special productions. They didn't have to be sold straight away.
So you relied on the time factor?
That is also an aspect of working with jewellery that I like: the longevity of the pieces. Good jewellery is timeless. And if you don't like it anymore you can have it melted down or reworked. That is fantastic I think. To be timeless and still be able to move with the times. You can always start again.
You like to refer to Donald Judd, the most important exponent of minimalism. When did you first come across his work?
Early on in my career but I only really became aware of him fifteen years ago. Judd's stainless steel objects deeply moved and formed me. When I designed and decorated my gallery on the Frauenplatz 13 I told the architects that this artist was particularly close to my heart.
The most recent exhibitions in your gallery slightly broke with your very austere line. You exhibit more playful and poetic pieces of jewellery that tell a story. Is that a tribute to the Zeitgeist – or Isabella Hund who has become softer over the last 25 years?
Just very pragmatic: there aren't that many artists anymore who consistently pursue or reinterpret the austere line. And there are new trends in contemporary jewellery that I wanted to remain open to. I can see the quality in the new direction and certainly can connect with it.
Does the theory propagated by the architect Ludwig Mies van der Rohe: "less is more" still apply to you personally?
Absolutely! (laughs). But in my exhibitions and as a gallery owner I take the liberty to exhibit artists who are willing to experiment without adhering to austerity. I did the same twenty years ago.
Contemporary jewellery needs a strong personality. Cliché or truth?
Truth. My customers are good examples. Some of them take the risk of buying a piece of jewellery in my gallery which others smile at condescendingly! We've seen this phenomenon in every epoch; avant-garde is avant-garde. As time passes it becomes part of everyday life and no longer is out of the ordinary anymore. My clients are often self-employed women who are successful in their profession and who want to present themselves with the jewellery they wear. And they are happy to explain if somebody asks them about a striking necklace. These women are naturally strong.
Would you consider yourself an ambassador for contemporary jewellery?
That sounds a bit grand. I am a mediator for jewellery. I enjoy talking about jewellery and the artists. There are human beings behind the jewellery, big ideas, an artistic career. Above all there is quality. Today, I mainly work with gold, silver and platinum – and when you are working with these materials precision is essential, the piece of jewellery has to be perfectly crafted. That is important for me.
Do you collect jewellery yourself?
Yes. I buy artists I have high regard for and who have accompanied me over the last 25 years. That gives me great joy. I have reached the point where I can take a journey through time with my jewellery because I naturally associate each piece with a certain time in my life. The collection tells a story.
Architecture, just like jewellery, has a language of its own. Your gallery was discussed with great euphoria in the relevant magazines. What story does this gallery tell your clients?
The gallery with its austerity, clarity and concept provides a forum for the jewellery. This relationship between the jewellery and the architecture, the play of materials, the suspended glass showcases are extremely important to me. The overall concept has to form an intrinsic whole. And the clients also enjoy this atmosphere. They begin to gain an understanding of contemporary jewellery via the architecture. Even after 15 years I enjoy walking into this gallery. For me it represents – of course due to the architecture – a successfully designed small cube of beauty.
What would be the ideal type of communication with the client in this cube?
Nobody buys jewellery like they would buy a loaf of bread. The search, the classification, the reflecting – all of that is a process. It is a journey towards the piece of jewellery. And often jewellery is given as a gift. Somebody might come to me who personally does not yet have a clear idea of what he actually wants. So then the conversation is all the more important. Sometimes the client will show me a photograph so I can have an image of what type of personality will be wearing the jewellery. Those are very often lovely encounters. And if I have made the right choice in the end and the person receiving the jewellery can actually identify with it, that gives me great pleasure. It suits my nature to materialize and shape an idea.
Which piece of jewellery do you dream of and have not yet completed?
I could make anything I want. But I no longer have to make a collier with hundreds of stones. I enjoy lightness, suspended objects, tiny links. I am living in the year 2013 and want to keep coming up with jewellery that is valid now.
Amazement, says Aristotle, is the primary reason for philosophy. Which jewellery amazes you?
I was recently in the Neue Museum in Berlin, which has been renovated with great sensitivity by David Chipperfield, and I looked at Egyptian jewellery. That amazes me: pieces of jewellery that are thousands of years old and so beautifully crafted! In New York, I saw forged golden chokers in the Egyptian department of the Metropolitan Museum. They have so much tension and an enormous elasticity! That is real art, to craft pure soft gold in such a way that is stands around the neck like a collar. That is magical.
You represent the avant-garde yourself and it thrives from ruptures and change. In relation to your gallery: what should change, what may remain unchanged?
I am very satisfied with the concept of my gallery in terms of space and design. It can stay as it is. But I will certainly continue to change, to be open to new trends and be inspired by new artists willing to experiment. I want my gallery always to be a fresh and alive place. I love vibrations.