Colour in Contrast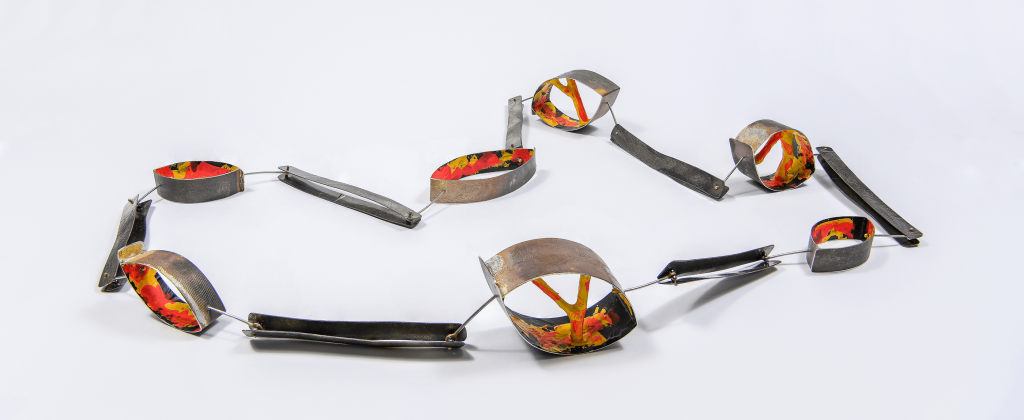 Necklace, silver, enamel, coral
Maria Rosa Franzin
Maria Rosa Franzin uses tiny specks of fine gold on the surface of white or oxidized silver, as if it were paint that she applies to the surface of the metal in the form of brush strokes or tiny dots. This pictorial approach stems from her background at the Academy of Fine Arts of Venice where she trained as a painter. Since the early days, Franzin has made use of gold in a very light, almost insubstantial manner. The gold specks almost become intangible, but at the same time are able to capture the light and show us the beauty of their warm natural colour in contrast to that of the dark or white silver they are lying on. An important feature in her work is the three-dimensional aspect. Most of her works have a double layer or have elements protruding so as to create a shadow or occupy the surrounding space. Her latest pieces have seen the introduction of resin, creating monochromatic crust-like surfaces, that at times englobe other elements, such as coral.
Necklace, silver, enamel, pearls
Biography
1951 Tripoli Libia
1967–69 Studied metal and goldworking at Pietro Selvatico Art School, Padua Italy 1970-74 painting at Academy of Fine Arts Venice. Italy
Since 1986 Has taught goldwork design at P.Selvatico Art School Padova Italy.
2015–2017–2018 Class Goldwork Design at Beijing Institute Fashion Technology BIFT China Lives and works in Padova, Italy
Since 2013 Chairperson AGC Association Contemporary Jewellery
2018 Lecture Simposyum Triple Parade M21 Art Museum Shanghai
Curator selection members AGC Association in the exhibition Triple Parade, Shanghai
2015–2017 Lecture Simposyum Beijing Institute Fashion Technology
2016 College of Art Edinburgh – Like a rolling stone. Workshop and exhibition.
Curator Convention New Technologies, Sala Rossini Pedrocchi Padua Jury 2013/14/15/16/17/18/19 Gioielli In Fermento, Torre Fornello, Piacenza Minimum Competition, Galeria Sztuki, Legnica PL
Venice Design Week
2010 Lecture Image and Form in Italian Jewellery, International Symposium St. Petersburg RUS
Joya, Contemporary Jewellery Fair, Barcelona
Curator since 2010 to present Cominelli Awards International Contemporary Jewellery.
Necklace Rossa
Exhibitions | selection
2019 Influences Oratorio San Rocco Padua Italy, Lies.E.S Exposition de Bijou d'Art Art Course Gallery Strasburg, Mano Gallery Taipei, Galerie, Gioielli In Fermento, La Joaillerie par Mazlo, Paris
2018 Like a Rolling Stone Museum Reich der Kristalle, Mieralogische Staatssammlung Munich Jewellery Week – Exiting Isabella Hund Gallery Munich Germany, Four Gallery Goteborg
Triple Parade M21 Art Museum Shanghai China
2017 Biennal Beijing International Jewelry Art Exhibition China
Natura Pretiosa Museum Mediterraneo Livorno – Galerie Slavik Franzin/Mariani Wien Galerie Objet Rare Paris Circuit Bijoux France
2016 Dialoghi, Museo del Mediterraneo, Livorno, Cominelli Foundation, S.Rocco Museum Padova, Museo Casalmaggiore Italy
Les Confluences, Museum del Modernismo de Barcelona – R-Evolution 66Mistrall Gallery Barcelona
Joya Barcelona Art fair, La collezione Permanente Cominelli, Oratorio San Rocco, Padua Italy
25 Jahre Slavik Galerie Wien – Like a rolling stone, workshop&exhibition College of Art Edinburgh
Biennal Beijing International Jewelry Art Exhibition China
2015 Dialoghi, Italian Cultur Institute Tokyo, Jewellery Museum Kofu, Memorial Museum Kanazawa
2014 Black is Beautiful Isabella Hund Gallery, Munich – Metallo Museo del Vittoriano, Roma
Wear It or Not: Recent Jewelry Acquisitions MAD Museum, New York
2013 Fantastici, Putti Gallery, Riga, Latvia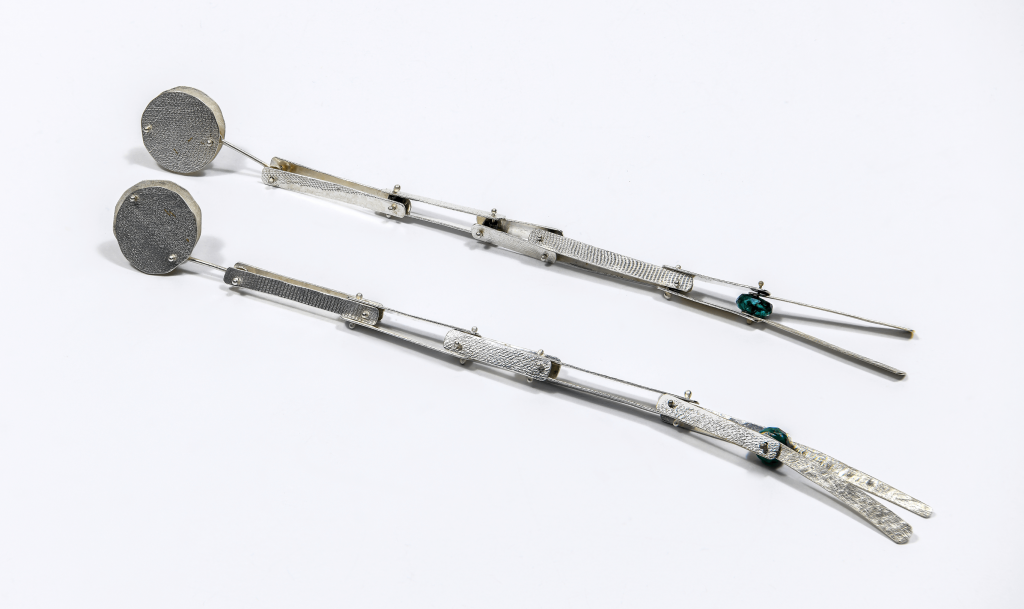 Earrings Emerald, silver, emeralds
photos © Silvano Longo