PEARLS AND CIRCLES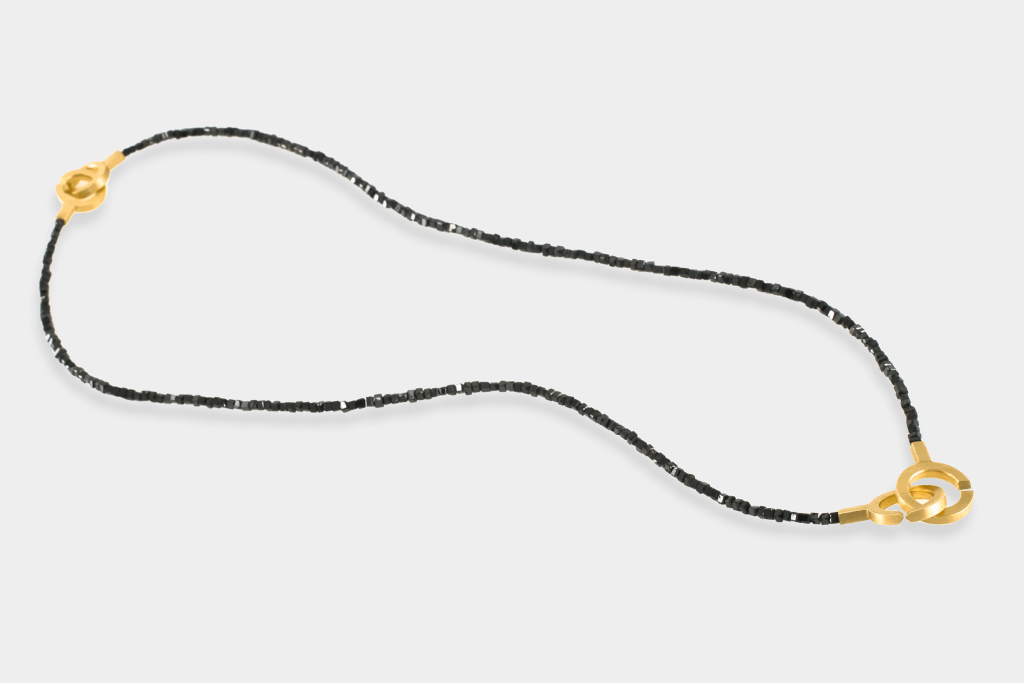 Kette Circle Line, Black Diamond
Evelyn Vanderloock
Evelyn Vanderloock vertritt eher leise Töne, die dennoch eine hohe gestalterische Kraft widerspiegeln. Aus wenig viel machen und Vorhandenes neu ordnen sind zwei Zitate, die ihre Art des Schmuckmachens anschaulich charakterisieren. Ersteres zeigt ihre Vorliebe zum stimmigen Detail, in letzterem verweist sie auf ihren Anspruch zur Innovation. Hat sie einen Ansatz für eine neue Linie gefunden, wird diese in all ihren Variationen durchgespielt: So entstehen am Ende verschiedene Schmuckstücke, die einzeln für sich wirken, aber durch individuelle Zusammenstellung einzelner Elemente neue, Stücke ergeben können.

Ohrschmuck Circle Line, Mondstein, Gold, Perlen
Armband, Gold, Perlen
Kette Circle Line, Black Combi
Biography
1963 Born in Cologne
1982–1986 Goldsmith apprenticeship and journeyman year in Cologne
1986–1993 Studies and diploma at Fachhochschule Düsseldorf
since 1993 Studio in Hamburg
Clear forms and strict reduction in form and material characterize Evelyn Vanderloock's jewelry. Despite their basic graphic forms, Vanderloock's pieces never appear cool, but always look elegant and tastefully unostentatious. "Rearranging the existent" is a recurring theme in her work. This designer imaginatively invents diverse variations for each new line. For example, the jewelry in her "Circle Line" series can be worn in many variations by differently recombining their individual components. Evelyn Vanderloock pays special attention to the perfect craftsmanship, which is indispensable for the linear effect of her work.
Ring Lucide, Gold, Citrin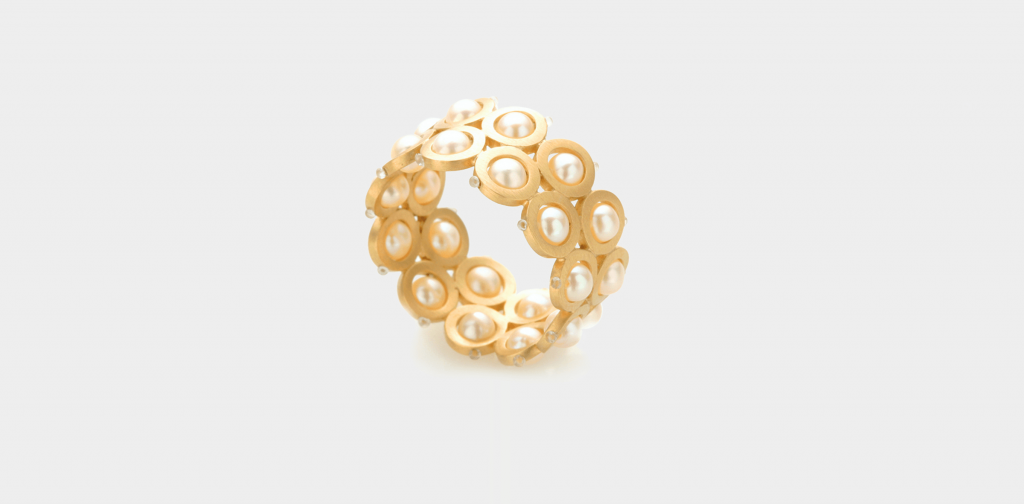 Ring Pile de Perles, Gold, Akoya-Zuchtperlen
Fotos © Evelyn Vanderloock