Gefühl und Härte
Nik Sardamov
This body of work consists of brooches, necklaces, rings and earrings. I use the circle as a basic component and put together three-dimensional forms with six different circle sizes.

These forms are built symmetrically, starting from a center and adding and arranging the components in different angles to form clusters and layers. The resulting shape is a rigid meshwork, where the cube can be recognized as the main organizing form.

Building the forms was like a game of exploring variations. I used the same number of components to put together forms with different characteristics: pattern, density and size. The pieces are first built up in wax and then cast in one piece in silver or gold.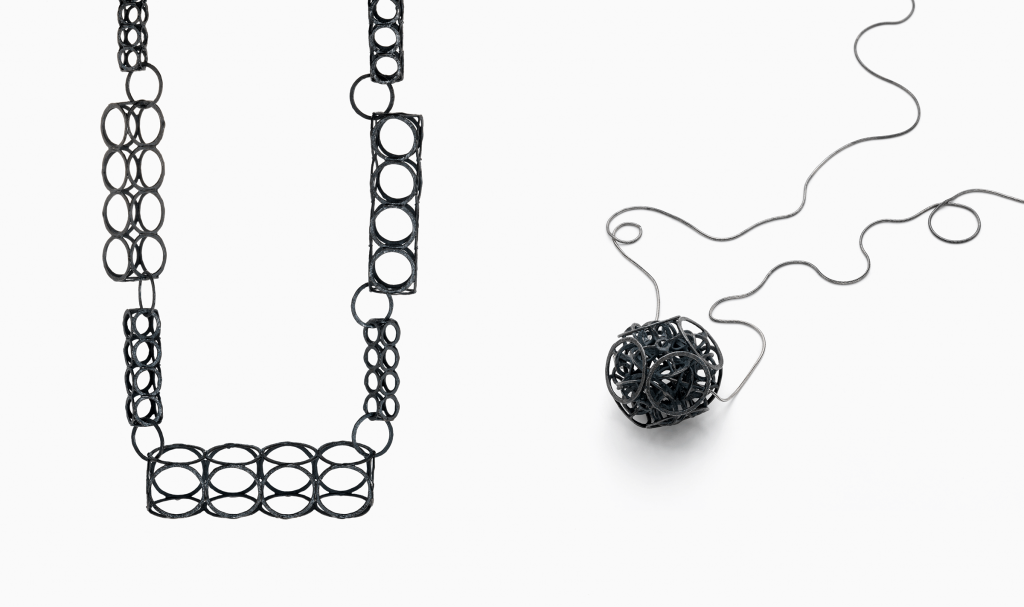 Necklaces, silver oxidized
Earrings, silver oxidized
Biography
1975 Born in Sevlievo, Bulgaria
1999 BA in Fine Arts Pedagogy, Sofia University St. Kliment Ohridski
2003 Salzburg International Summer Academy of Fine Arts, Erico Nagai
2004 Salzburg International Summer Academy of Fine Arts, Johanna Dahm
2005 MA Jewellery and Metal, Academy of Fine Arts, Sofia
Awards
2000 Grand Prix in New Technologies Competition, Union of Bulgarian Artists, Sofia
Public Collections
Victoria and Albert Museum, London
Solo exibitions
2017 "GARDEN CITY", Billcliffe Gallery, Glasgow
2015 "GARDEN CITY", with Vencislava Vasileva, V&V Gallery, Vienna
2015 "GARDEN CITY", with Vencislava Vasileva, Testa Gallery, Sofia
2013 "BRAND NEW", Testa Gallery, Sofia
2013 "Constructions", Isabella Hund Gallery, Munich
2013 "Intersections", Billcliffe Gallery, Glasgow
2012 "Intersections", Barbara Weinberger Gallery, Nurnberg
2012 "OPUS", with Tsvetelina Alexieva, Reverso Gallery, Lisbon
2012 "3 from Sofia", with Tsvetelina Alexieva and Dimitar Delchev, Galeriehaus Grosche, Castrop – Rauxel
2012 "Intersections", Testa Gallery, Sofia
2012 " Selected works", Altronics Light & Suspacious, architectural lighting studio, Sofia
2010 "3×2=Schmuck", with Tsvetelina Alexieva and Dimitar Delchev, Mangold Gallery, Leipzig
2010 "Continuum", Metalab Gallery, Sydney
2010 "Be-Re-Cycle", V&V Gallery, Vienna
2009 "The secret of the garden", Testa Gallery, Sofia
2007 "New work", Jungbluth Gallery, Luxemburg
2007 "Taste", with Tsvetelina Alexieva and Dimitar Delchev, Galeriehaus Grosche, Castrop – Rauxel
2006 "Nostalgia", with Tsvetelina Alexieva and Liliana Ploskova, V&V Gallery, Vienna
2004 "All Roads Lead to… Glasgow", Roger Billcliffe Gallery, Glasgow
2003 "Wee treasures", V&V Gallery, Vienna
2001 "Sweet Nothingness", V&V Gallery, Vienna
2001 "High Couture ", Bluecoat Display Center, Liverpool
Exhibition participations
since 1995 Australia, Austria, Belgium, Bulgaria, Germany, Great Britain, Italy, Luxemburg, Portugal, Switzerland, The Netherlands, Turkey, United States of America
Ring Intersections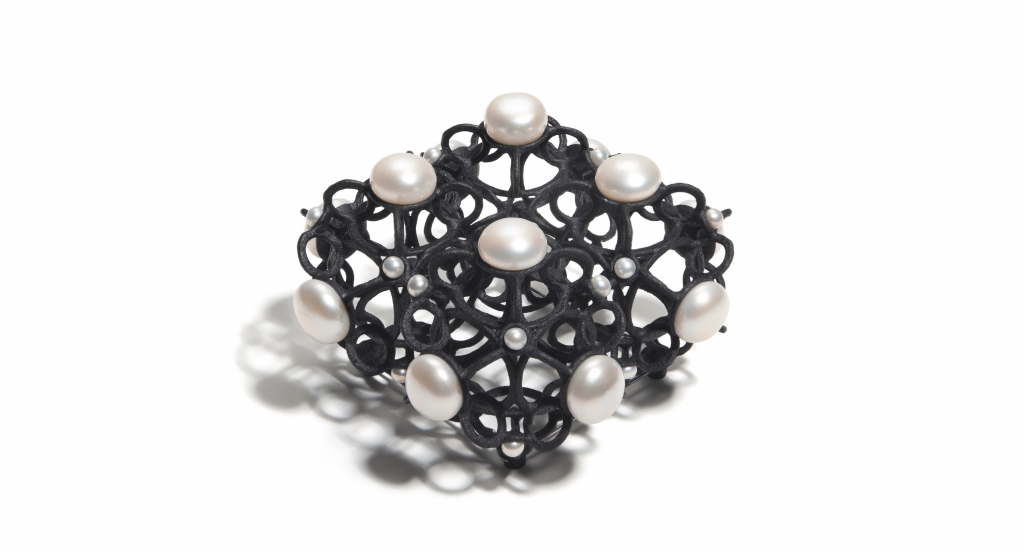 Brooche Intersections
Brooche Intersections
Necklaces Intersections
Stills © Eva Jünger