Resembling ancient relics
Armreif Only a yellow cube Silber, 18kt Gold, Niello, Patina
Gigi Mariani
My goal is to move from the concept of simple jewelry, to a larger concept of sculpture and art piece.
I work with precious metals , silver and gold, and utilize antique and unique goldsmith techniques, such as NIELLO, personalizing them in order to distinguish my work from others.
My jewelry is usually finished by material textured, which hides to the naked eye the precious metals. As a painter uses his canvas to express his or her feelings, I use my jewelry as base for expressing mine.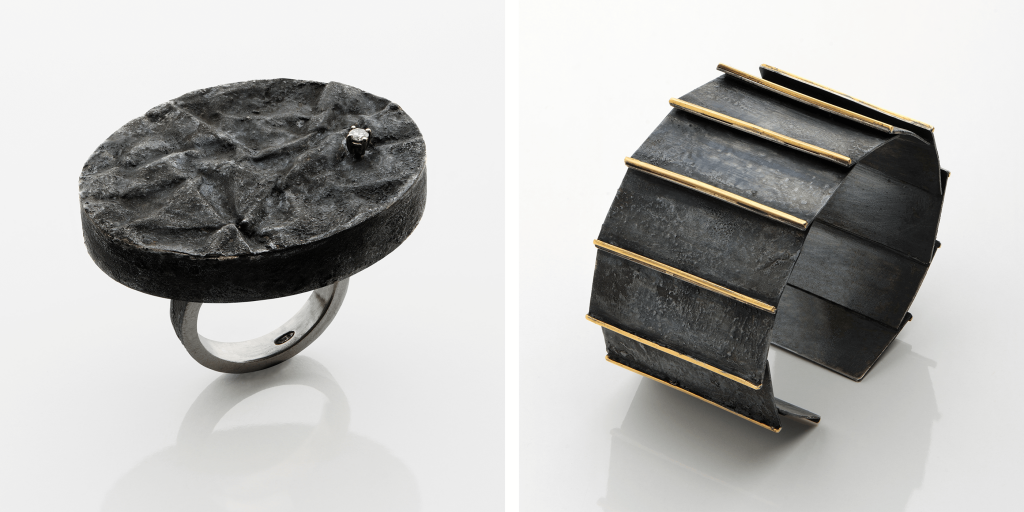 Black oval Silver, Weißgold, Diamant ct0,05, Niello, Patina; Armschmuck Segment, Silber, Gold, Niello, Patina
Ohrschmuck, Gold, Niello, Patina
Biografie
Gigi Mariani, 1957, Modena, Italy.
1983 Apprenticeship by a Goldsmith's laboratory
1985 Opened his own studio in Modena
2001/02 Seminar on diamond grading, Chamber of Commerce – Modena
2001 Since 2001 collaboration with the Archaeological Museum –Modena
2009 Workshop with Graziano Visintin e MariaRosa Franzin | Enrolment AGC| Co- founder Artifizio group
2011 Granulation Workshop with G.Corvaja, Alchimia, Florence | Member Klimt02 | Member Crafthaus | Workshop mokume gane with G.Corvaja, Todi italia
2012 Curator – International jewelry Competition "……vices or lifestyle" | Member of Gesellschaft fur Goldschmiedekunst, Hanau, Germany
2013 Vice Chairman AGC Italy (Association Contemporary jewelry)
Preise – Awards
2015
Guest Artist for 2015 Edition of Joya art Jewellery Fair /Alliages Choise – The legacy award
2014
First Prize Joya 2014, Barcelona, Spain || Selected for the Herbert Hofmann 2015 Award, Schmuck 2015 (Munich)
2013
First prize Cominelli Foundation 2013 Award
2012
Premi Joid'art, Enjoia't 2012, Barcellona
2011
Exhibition Gioielli in fermento, Torre Fornello (PC) / | First prize ONOFF Spazio Aperto Award 150°, Padua, Italy
Arbeiten in öffentlichen Sammlungen
2017
Gold on the tracks, Galerie Isabella Hund, Munich (D)
2018
Tracce nella Materia, Oratorio San Rocco , Padova (IT)
Solo , Albert Riedi Gallery, Chur, (CH)
The Alchemical egg, Galerie La Joaillerie par Mazlo, Paris (F)
Short stories, Art gallery Putti, Riga (LV)
Influences, Galerie Benjamin Eck, Munich (D)
Gioielli in Fermento , Villa Braghieri, Catel San Giovanni , Piacenza (IT)
Like a rolling Stone, Museum Reich der Kristalle, Munich(D)
Joya, Barcellona (E)
Chaos, Alliages, MJW, Munich (D)
The Alchemical Egg, Triple Parade, Shanghai, China
Bijoux d'art , Galerie Orfeo, Luxemburg, (L)
Pearl methamorphoses in contemporary jewellery, Art Gallery Putti, Riga (LV)
2019
Beyond the Black, Hannah Gallery Barcellona , Spain
Gioielli in fermento Gallery, Galerie La Joaillerie par Mazlo, Paris (F)
Influences Oratorio San Rocco, Padua, IT
Sammlungen
Fondazione Cominelli, San Felice del Benaco (I)
Museo degli Argenti, Firenze (I)
Olnick-Spanu Collection, New York (USA)
Ringe, Gold, Silber, Niello, Patina
Fotos © Paolo Terzi , Modena, Eva Jünger